Adegree in drama won't automatically guarantee you a place in the limelight, but it has certainly helped some household names, including Dame Judi Dench, who graduated with first-class honours in the subject, and comedians Matt Lucas, David Walliams and Dawn French.
Even for those who don't make it on to the stage or big screen, a drama degree can open doors to equally rewarding roles, such as being an arts consultant, set designer or visual artist.
While drama school allows students to hone their acting technique, a drama degree takes a more theoretical approach, covering topics such as script-writing and theatre design, giving graduates a thorough grounding in the subject and widening their career options in a highly competitive field.
What skills have you gained?
Confidence and self-presentation, analytical skills, self-discipline and an ability (hopefully) to handle criticism. You will also be used to working in a team and have developed good research skills, as most courses tend to involve a major research project or dissertation.
What jobs can you do?
Working in such an unpredictable profession, often involving long periods of "rest" for actors, means the ability to network is essential, says Margaret Holbrough, a careers adviser at Graduate Prospects. "Careers involving performance as an actor or dancer are often based on short-term or freelance contracts, with the necessity of having to move from place to place to secure work. These may be in the TV, radio or film/video industries where contacts and networks are extremely valuable," she says.
Of 2009 graduates, nearly seven in 10 went into full-time employment; almost a quarter in the arts/design/culture sector. Many of those found work as actors with others taking up posts either as stage or studio managers, broadcasters or clothes designers.
TV presenting is also an option, as demonstrated by Katy Ashworth, presenter of CBeebies and I Can Cook, and Abi Griffiths, who hosts sports programmes for ESPN.
"Other roles that operate within theatre or broadcasting that may equally appeal to drama graduates include theatre director, stage director or choreographer," says Holbrough.
"Working with community arts projects can also provide a vital starting point for graduates from which to develop their career further, either as a performer or to move into arts administration or management."
Graduates could turn their hand to therapies linked to the performing arts, such as drama therapy, music therapy or dance music psychotherapy. Each requires training in counselling.
Other career areas chosen by 2009 graduates include the commercial/public sector and marketing/sales. But the tradition of struggling actors working as waiters while holding out for their big break prevails, with a quarter of graduates taking up jobs in catering.
Postgraduate study?
Vocational courses are an option for those who want to use their degree for specific careers, for example arts administration. Of 2009 graduates, 4.2% stayed on to take higher degrees. Teaching is also a popular choice and almost 3% went on to study for a PGCE.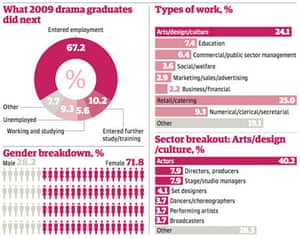 Data supplied by the Higher Education Careers Services Unit and Graduate Prospects